Recently, I have joined the other side (switched from Sony vaio windows to Macbook pro) so It took few days to get used to the Mac. But once you get used to it, you are going to fall in love with this machine because the UI, the hardware, the fast-track pad, the mac apps, the resolution, the performance, the style quotient everything is just awesome. Being new to Mac, I did explore many Mac software, found some interesting and useful Mac apps and thought I should share with you some of the best mac software apps. All the apps listed below are compatible with macOS Sierra, the current version of mac OS, I have personally tried and tested on my machine. So I am listing the best free Mac applications which I find it useful. Most of them, you can download it for FREE.

Let's get started.
1. F.lux : This is a must app for all computer users (not just mac). Do you work whole day on computer? Do you work at night? Is your computer keeping you up late? Then, F.lux is the app you required in your macbook. It'sfree software that warms up your computer display at night, to match your indoor lighting.It makes your computer screen look like the room you're in, all the time. When the sun sets, it makes your computer look like your indoor lights. In the morning, it makes things look like sunlight again. It will take few days to get used to this but it's good for your eyes and much better to work.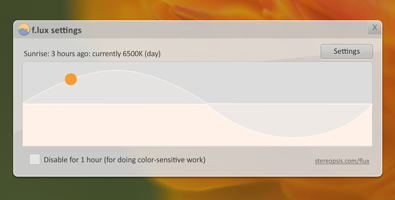 2. Grammerly : If you need to prepare documents, write an email or write a blog, Grammarly makes sure everything you type is easy to read, effective, and mistake-free. It's Free and paid version both. In paid version you get features like Plagiarism checker, Vocubulary enhancement, Grammar checking, Writing style. It has also available as browser adds-on. This is quite a good software, It makes my life easier.
3. MovieMator : It is a totally free video editing cum movie maker software for Mac which featured with lots of unique visual effects and transitions. Even though it's a free video editing software, it is actually very professional. Amazing home movies will be created in a few minutes with this free video editor for Mac! What is more, it allows users to easily add images for a vivid photo slideshow or as cut-ins between video clips on Mac OS X.
4. Fotor Photo Editor : Dubbed by BBC as the lite Photoshop, Fotor is the best free photo editing software for mac! It's a simple but easy to use photo editor for desktop that enables you to edit photos, without being an expert in Photoshop. It processes photos quickly allowing you to adjust exposure, brightness, contrast, white balance, and saturation, sharpen/blur, add a vignette, or crop, straighten, rotate ,text, red-eye removal and more.
5. PDF Element: PDFelement is your all-in-one PDF solution. Create, edit, convert, annotate, protect, merge, watermark, compress, and sign PDF files in an efficient way.
6. HiddenMe – If your Mac desktop is cluttered with folders and files, you can hide all the icons with a single click or with a keyboard shortcut.
7. App Cleaner – Deleting the .dmg file is not enough. If you are to properly uninstall any Mac app, you need to delete the residual hidden files as well and that's where App Cleaner can help.
8. Download Shuttle – A download manager for your Mac that splits the file into multiple parts and downloads the individual parts simultaneously for faster downloads. Can pause and resume downloads too.
9. AirDroid – It connects your Android phone to the Mac. You can access messages, manage photos, transfer files and more, wirelessly.
10. NoSleep – Your Macbook goes to sleep as soon you close the lid. The NoSleep extension will keep the screen awake even when the lid is closed so you can continue downloading files over the network.
11. Chrome Browser: The debate over which is the better browser is one that won't be settled anytime soon, but in the meantime every Mac user should have a copy of Chrome alongside Safari in their Dock. Fast, smart and endlessly customizable, Google's browser is an excellent alternative to Apple's, with instant searching and smart syncing. And with a dedicated store filled with extensions and themes, finding ways to enhance it is way easier than it is on Safari.
12. Vuze – Torrent client : Torrent files get a bad rap (or not, depending on your views about stealing music and movies), but they're not all about illegal content. There is an array of perfectly legal albums, books and games ready to be downloaded, but to get at them you'll need a way to unbundle the files. You can't go wrong with Vuze, one of the most popular free clients on the Mac. Torrents will instantly start downloading without hogging any of your system's precious resources, and an array of features give you full automation and remote control over your files.
Extra Mile – This is my way of expressing gratitude, giving something extra. Do check some more useful applications, if you like to.
I have included the itunes mac Apps Store links because the store not only make it easy for you to install apps on your Mac but, in the case of paid apps, you also have an option for requesting refunds or if you decided to change the machine, you can still keep a track of all your apps.
Do let me know if you find any above mac apps useful in your use and also suggest if I missed any to include in my list.
Hit the ★ button if you liked this article, please? You'll help others find it.